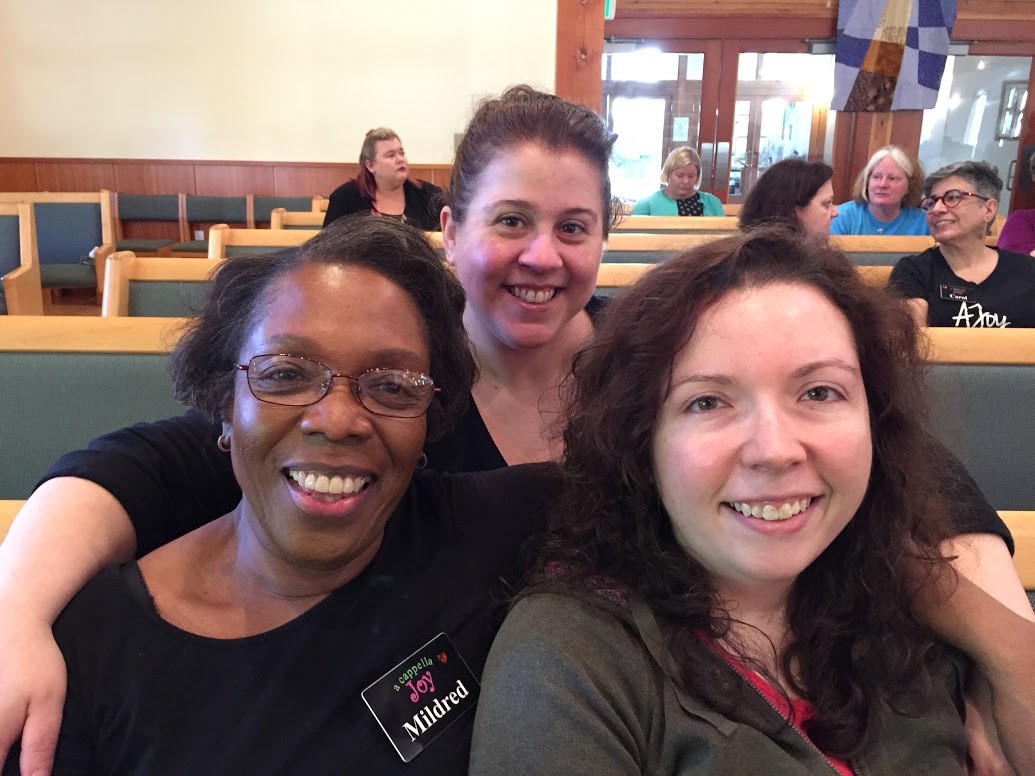 Editor's Note: Region 13's 2017 Convention chorus competition is this Saturday, April 29! New AJoy member Mildred B. (far left in the photo above, with some of her AJoy sisters) has been chronicling her adventures as a new Sweet Adeline. Follow along on her journey to her first regional competition.
March 21, 2017 - 6 weeks until contest!
Let me first start by saying, when I joined AJoy, I didn't know any of the ins and outs of competing.  I had no idea what a big production it is and the importance attached to participating in in the competition. I actually took it rather lightly because I knew I was learning so much about proper vocal production, proper barbershop singing format, including singing as one voice.
Then I realized there was still the performance factor, with "show face," and that was before I let myself realize that choreography was the next step, and quite a step it was!
Yes, I was intimidated because I knew I could sing, but trying to keep high level vocals while giving your all to choreography, with realistic facial expression is something altogether different. 
As a side note, although performing solo has its own nervous-making moments, if you sing a different note than rehearsed, or change a planned move for impact, or words in your show patter, it doesn't matter because it's just you. In the fine-tuned machine that is barbershop competition chorus it quite a big deal. That in itself carries a whole different set of expectations and challenges. 
I haven't even touched on the hair, makeup or costumes yet, which is a whole additional level of difficulty. I make jokes about it all to keep from freaking out, but it is all very exciting though overwhelming at the same time. 
Anyway, see you all at Competition my AJoy sisters. May we bring joy to many and make ourselves and our director, Nikki, proud. 
March 27, 2017 - 5 weeks until contest!
So my current question to myself:
Is all the practice, sisterly camaraderie, confidence in my known vocal ability, and beginning awareness that I may be capable of learning the choreography, enough to help me sail through this competition without anxiety or the feeling of "what have I gotten myself into now?"  
To be perfectly honest, the actual singing is the least of my concerns at this point and all the other things are secondary to my imagination's view of the crowds. I'm not speaking about the audience per se, but as a closet introvert, the mere thought of so many people gathered in one place gives me some trepidation. 
March 28, 2017
Last night the realization that as I have been concentrating on competition, I completely overlooked the fact that the big dress rehearsal (AJoy Friends and Family) for contest is closing in quickly! Friends and Family is sort of a mini-show where we perform our contest set locally here in Kirkland, before we head off to Spokane for our regional competition.
Although I understand the value of this performance, I think I had a false sense of calmness thinking that my only concern was Spokane. 
Enter internal panic!
Hearing that others feel the same is not necessarily comforting to me, since I tend to only consider my own "stuff", good or bad. Add to this the talk about how it will go as far as pre-curtain prep, etc. which I had given no thought to because in my mind we line up on the riser and perform as expected. 
Mini freak out number two!
I'm certain I will "survive," but realize that I am really part of a much bigger picture than just singing and doing choreography WELL!
April 15 - 2 weeks until Contest
I haven't written in a while and I didn't know why. It dawned on me today that even thinking about writing all that is going into "THE PERFORMANCE", and the prospect of seeing it in black and white was actually causing me additional anxiety and stress. 
In only two days, at AJoy Friends & Family, I will be a part of something I now realize is so much bigger than little old me. However, in true AJoy fashion, all of my AJoy sisters are opening up and honestly sharing their own stories about their journey, even the people I thought had been through this so many times, that it couldn't possibly be causing them even the slightest worry. How naive I was. 
My only explanation is, it demonstrates even more how dedicated each and every one of them is to our chosen craft. 
April 18 - After AJoy Friends & Family night (one week before contest)
First let me say, I indeed survived. There was only one moment when it was even in doubt. 
Let me explain...
All the angst about hair and makeup was just part of the preparation process. Very different from back in the day, when I performed solo and all decisions were mine. No makeup checker, no hair inspection for the desired look of the chorus director and resident stylist consultant. Just me finding the right outfit and feeling I nailed my own hair and makeup. 
Oddly enough, hair and makeup prep made no impact good or bad on my evening in the end. I love the outfit which is flattering to all sizes and shapes thanks to our chorus member and costume designer, Nancy Cornwell [Editor's note: Nancy really is amazing, and she's offering an SAI Costuming for Choruses and Quartets class at Harmony College NW this year!]. 
Yes, I forgot to break in my shoes so my feet hurt, but that was no big deal, just a valuable lesson learned.
As we lined up to grace the risers for for our pre-show pep talk and runthrough, there were a few early people in the audience watching but that didn't affect me either. 
When it was finally show time, I climbed to my riser spot and started searching the audience to see if any of my family members had made it, because there were legitimate reasons why they may not be able to attend. 
I soon realized that I was not processing what I was seeing. The faces were a blur and as Nikki was going along the riser line, checking that we were in our proper chorus window, I never heard her call my name. I must have looked terrified because she gently grabbed my hand, called my name and said, just look at me, it's just us. I didn't even know I had completely zoned out. 
As I prepared my show face, I realized my lips we doing this crazy dance that I was powerless to control. But once we started the lovely ballad, it was game on. 
Halfway through the uptune I mistakenly looked away from Nikki and glanced into the hallway, only to spot my very tall son's head above the crowd. I then realized I was more nervous about making him proud than about all the other audience members combined. That surprised me, because he has seen me perform before. 
He arrived on time for the show, but the parking situation made him late for the beginning. Luckily, after our first set, we would perform again at the end of the night, so he would be able to see me perform then. 
I didn't realize I was still shaken about him watching. 
It didn't help that after AJoy's first set, the awesome women's chorus Con Brio and the jaw-dropping AJoy-affiliated quartets performed, giving me time to come out of "show mode" and into anxiety mode.
What was most disturbing for me though was when we were offstage waiting to perform, the noise of our chorus chattering was deafening, and my claustrophobia also kicked in. I didn't have enough sense to move away for my sanity and to find my inner peace. Later after Friends & Family, I shared honestly with others about my "crowd and noise" issues, and many of my AJoy sisters have reached out with advice and support and that is a wonderful testament to who we are. 
Once the noise stopped and we lined up to repeat our set at the end of the show, I was better, but knowing my son was there made me worry about my performance more than I should. 
Just a momma wanting to make her son proud. 
We performed our contest set again, and when we came off stage, my son's first question to me was, "Did you have fun?" My answer without hesitation was a resounding YES!!!
It all seemed to go by so quickly but I loved being a part of it all. 
My son told me how much he enjoyed the show and being a typical guy, didn't gush over his mother, but I could tell by the beaming smile on his face that he was indeed a proud son. He video-recorded the uptune so that my daughter-in-law could see, it since she couldn't attend. She absolutely loved it and was proud of me. The next morning, my oldest grandson told me my son told him how great it was, so there you go!!
I am proud of my performance and am in many ways looking forward to mastering the big stage in Spokane.