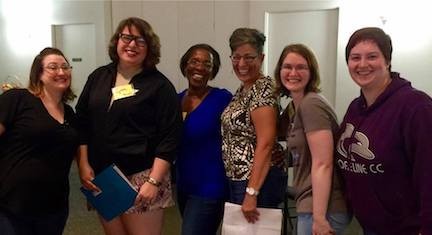 Mildred (third from the left), with chorus director Nikki (far left), and other guests attending an AJoy rehearsal--most are members now! Mildred joined the chorus in 2016 and will be attending her first Sweet Adelines regional convention this April! Here, she reflects on her experiences so far.
When I retired and relocated across the country, it became apparent that I needed to find something to do.
I had no idea what that would be, but knew I needed to do something I loved, so singing somewhere was the obvious choice. I have been involved in singing in many forms the majority of my life, but didn't know where to begin. 
I decided to try the Meetup site online. I searched for anything to do with singing and AJoy's Meetup page popped up . The prospect of singing harmony which I dearly love was the initial draw.
I admit that I looked no further into what AJoy was about, and it took me a full year before I acted on impulse and showed up at practice one Monday about eight months ago, and my life changed for the better from that moment on. 
I had sung in choruses, choirs, solo and even in a small a cappella doo-wop group with five guys in my past but never in the awesome world of barbershop. My only real memories of barbershop came from seeing performances of oldies done by groups like the Osmond Brothers on TV. 
I felt so welcomed from the moment I entered that day and that feeling of sisterhood has only increased each and every day. It didn't hurt that the beautiful sound I witnessed and participated in from the first song was one of the most beautiful things I had ever heard in my life. 
It was apparent to me that I had a lot to learn about the specific field of barbershop singing but everyone in the group is so open to help and their own personal work ethic makes me proud to be a part of this wonderful collection of women.